Admissions Information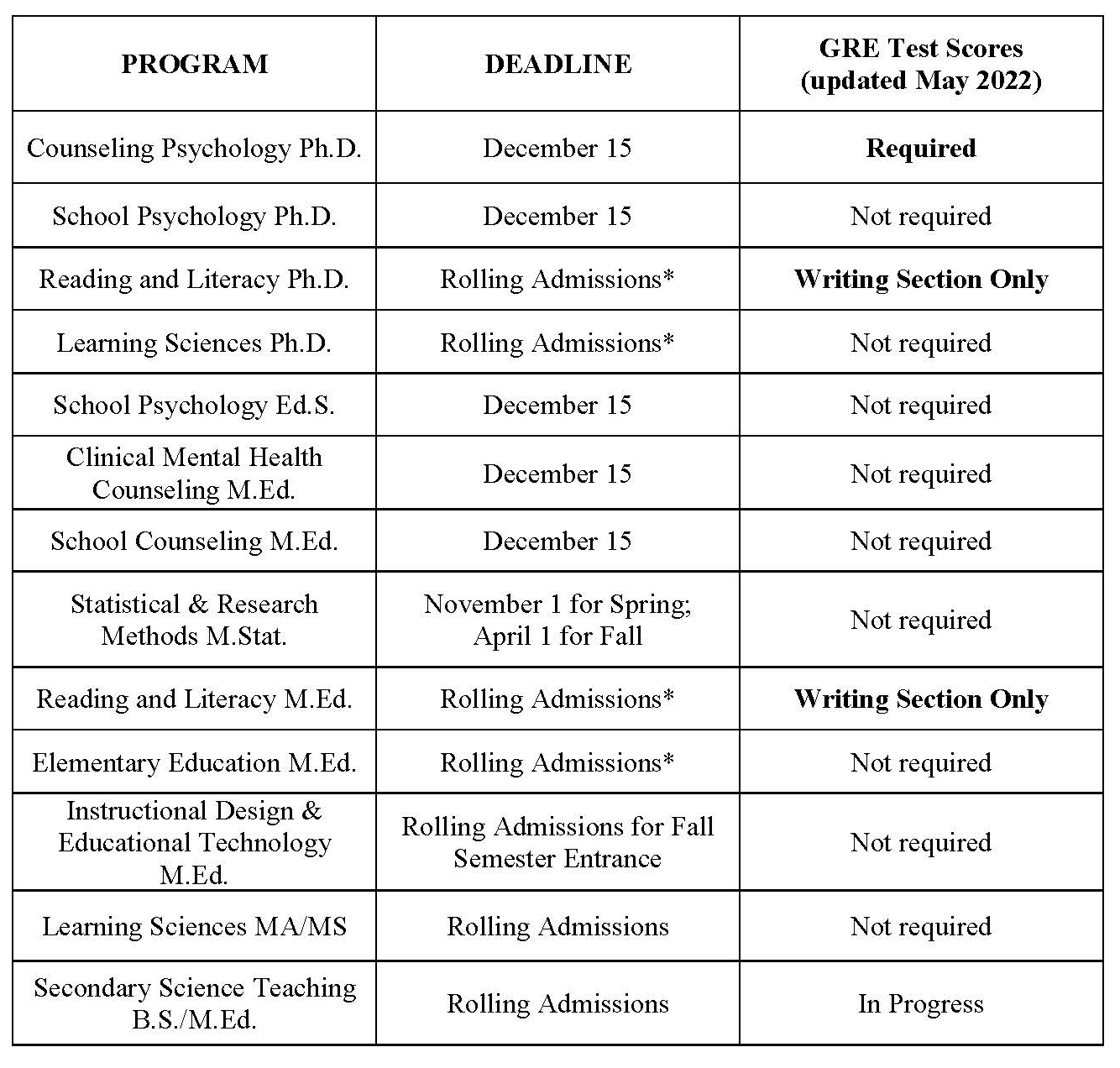 * Rolling admissions means that applications to these programs are processed as they are received.
Admissions has implemented a new online application process called ApplyYourself. Please contact the Department of Educational Psychology if you have any concerns. We suggest beginning the application process at least one month prior to the Application Deadline to ensure that any problems that may occur can be resolved quickly.
Graduate Application: (University of Utah). Apply online here: https://app.applyyourself.com/?id=utahgrad. The application fee is $55 for domestic applicants or $65 for international students.

When you put what program you're applying to, Educational Psychology, you MUST put what emphasis you're interested in.
If applying to a PhD and a Masters' Program, submit two separate applications
Clinical Mental Health Counseling and School Counseling: If applying for both Salt Lake and St George, only submit one application and contact Sarah with your interest.

Transcripts: Please upload your transcripts into the ApplyYourself web application. These are unofficial, scanned images.
GRE Scores: Please see above information. Please plan to take this test at least one month before your application date, as it takes an average of three weeks to get your scores back. This test is administered by Educational Testing Services (ETS). Your GRE Scores must be forwarded to the University of Utah (Code 4853) by ETS. Personal photocopies are not sufficient. For more information you may contact ETS or your university's testing center.
Curriculum Vitae/Resume: A CV is a detailed overview of your accomplishments, the ones most relevant to the realm of academia. Submit a CV with the most updated information possible.
Personal Statement: Submit a personal statement in the application describing your career goals in 1 to 2 pages. For individuals applying to a doctoral program, please identify in your statement at least one of two program faculty who could potentially serve as research mentors if you are admitted.
Recommendations: You will need to get 3 letters of recommendation. You will be prompted to add your recommenders' email addresses. They will receive an email with a copy of the necessary Recommendation Form to fill out. They will be required to fill it out and upload it with their letters into your online application. At least two of the recommendations should be from individuals at academic institutions who can assess your academic potential for graduate study.
OPTIONAL: for PhD applicants - A writing sample, such as a paper.
The Department of Educational Psychology needs to receive all items by the deadline listed for the program to which you are applying.
If you have any further questions, please contact the University of Utah Admissions Office at (801) 581-7283 or the Department of Educational Psychology at (801) 581-7148.